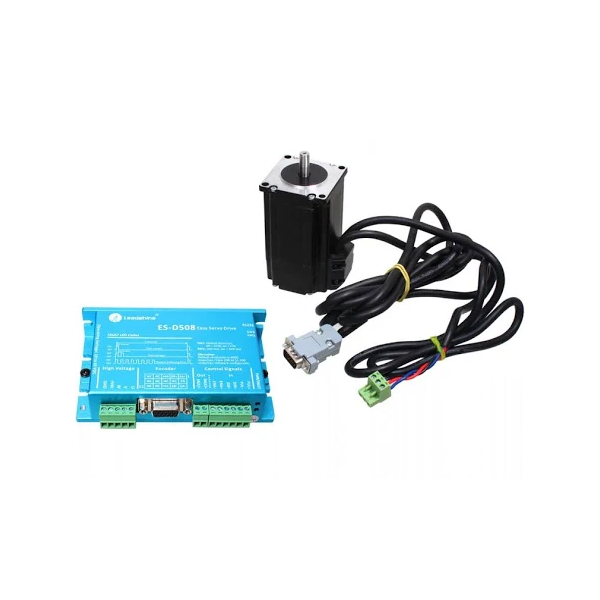 3 PHASE NEMA23 EASY SERVO MOTOR W/T ES-D508 LEADSHINE DRIVE
₹15,340.00
Motor Features
3 phase

NEMA23 frame size

1.5 Nm (283 oz-in) holding torque

Speed range: 0 – 2,000 RPM

Integrated 1,000-line incremental encoder

Smooth movement

Low motor heating and noise
Motor Specifications
Step Angle : 1.2 Degree,

Rated Voltage: 2.9V

Phase current: 5.8Amp

Resistance/phase: 0.5ohm

Inductance/Phase: 2mH

Encoder Resolution(CPR) = 1000

Length (L): 99mm

Shaft Dia : 8mm

Shaft Length : 21mm

Shipping Weight: 3000grams
---
AC Servo Drive Specifications:
Leadshine original ES-D508 easy servo drive

Step and direction control

Closed position loop for no loss of movement synchronization

Operating voltage: 20-50VDC

Load based output current of 0.5 – 8.0A

High torque at starting and low speed

No torque reservation

High stiffness at standstill

Significantly reduced motor heating

Smooth motor movement and extra low motor noise

Quick response, no delay and zero settling time

No loss of steps; no hunting; no overshooting

Plug-and-play and no tuning
Description
This combo is ideal for CNC machines, diamond machines, laser machines. Standard NEMA23 frame size with 20Kgcm holding torque with leadshine original ES-508 Easy servo drive. AC servo applications up to 3000RPM.