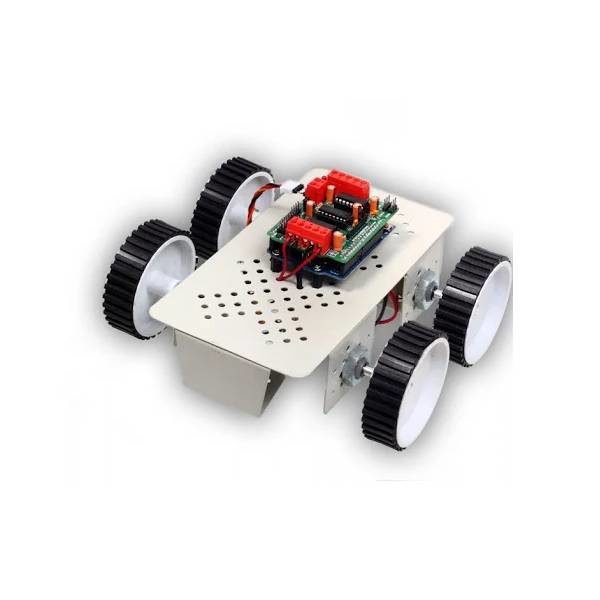 Arduino Uno R3 Based Robot Starter Kit
₹2,242.00
This Package Includes:
 1 X Arduino Uno R3 Based Robot Control Board
4 X 300rpm 12v Dc Motor With Gearbox
4 X Robot Wheel 2cm Width
1 X Metal Chassis – Advanced For Robots
1 X Lithium-Ion Rechargeable Battery Pack 11.1v 2200mah (2c)
Description
This latest robotics kit from Robokits India has been designed to be a cost-effective learning platform for robotics and reduce the amount of soldering and interconnection required. It includes Roboduino Uno R3, Motor Shield, Four DC geared motors, Four 2cm wheels and one advance robot chassis.
The kit is extendable into many bots with chassis and Motor Shield having many options for mounting additional sensors and actuators.
The boards includes two L293D on board for running DC and Stepper motors with upto 1 Amps of current discharge capability. The Robot control board is completely compatible with Arduino Ide and has full pin compatibility with Arduino Motor Shield library. The board is preloaded with Arduino Uno bootloader and can be programmed with other functionalities aswell such as interfacing sensors, Uart communications, I2C interface and many more.