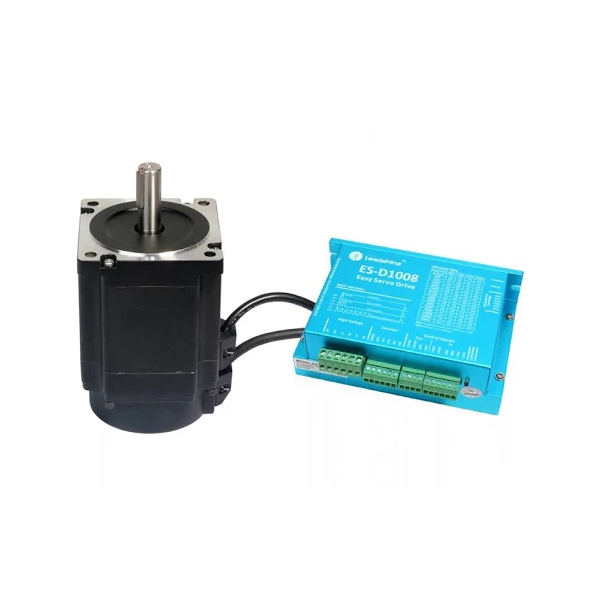 HYBRID SERVO MOTOR 2-PHASE 85KG-CM W/T ES-D1008 LEADSHINE DRIVE
₹21,476.00
Motor Specifications
Step Angle : 1.8 Degree, 50 pole

Configuration: 4 wire bipolar stepper motor, 2-phase AC

Rated Voltage: 3.2V

Phase current: 4.2Amp

Resistance/phase: 0.44ohm

Inductance/Phase: 4.4mH

Rotor inertia: 2700gcm2

Encoder Resolution(CPR) = 1000

Insulation Class: Class B

Length (L): 145mm

Shaft Dia : 14mm

Shaft Length : 40mm

Shipping Weight: 4000grams
Drive Specifications:
Leadshine original ES-D1008 easy servo drive

Step and direction control

Operating voltage: 20-70VAC or 30-100VDC

Load based output current of 0.5 – 8.2A

High torque at starting and low speed

Significantly reduced motor heating

Smooth motor movement and extra low motor noise

No loss of steps; no hunting; no overshooting

Operating Temperature : 70 C
Description
This combo of is ideal for CNC machines, diamond machines, laser machines. Standard NEMA34 frame size with 85Kgcm holding torque with ES-D1008 Leadshine drive. Rated for 400W AC servo applications up to 2000RPM.